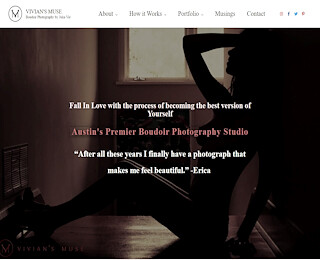 Boudoir photos make ideal gifts for your partner or loved one. Known as a personal picture taken in an intimate setting by a professional photographer, boudoir photos have been rapidly growing in popularity in recent years. This is mainly due to the fact that they are an exciting way to let you express your beauty and femininity, while also acting as a kinky reminder for your partner.
When searching for San Antonio boudoir photographers, you'll surely come across a variety of companies promising amazing results at low prices. However, at Vivian's Muse, we treat you like family, and make it our mission to get you the highest quality photos that showcase your best features. Our professional photographer, Julia Vie, has years of experience working with hundreds of women of all body types, ethnicities, and age groups. With this in mind, no matter your size, color, or age, Julia can perfectly capture your best assets and meet your exact vision.
Boudoir Photos
Boudoir photos are similar to glamour shots, but are much sexier. For example, our clients typically wear some type of lingerie, while some even choose to be nude altogether. No matter how erotic or glamerous of a tone you want to portray, Vivian's Muse can oblige with fantastic and professional result.
As the best San Antonio boudoir photographers, we work closely with our clients in order to determine the exact look and feel that you want to achieve. During the photoshoot, our goal is for you to relax and enjoy yourself. If you're unsure about what poses or expressions will look the best in the final results, Julia Vie is always happy to help you with expert guidance.
What to Wear
While your outfit decision is ultimately up to the client, our customers typically choose to wear lingerie or similar clothing. With that said, there a number of options available, and your only limit is your imagination. Some women may feel most comfortable completely nude, which is perfectly acceptable. For a more provocative look, you can choose to wear something unexpected. For example, a western themed photo pairs best with a cowboy hat, boots and a g-string. For more tips and inspiration, be sure to check out our website where you'll be able to view some of our past photo shoots.
Schedule a Photo Getaway
When you're ready to listen to your inner muse, it's time to schedule a photo shoot. San Antonio boudoir photographers need to be booked in advance. If you are creating a photo gift for a special occasion it's best to allow plenty of time in advance, to ensure availability. Vivian's Muse is located in Austin, Texas, however we love to travel. This means, with enough notice we'd love to work with you in San Antonio. We are a top rated professional photographer specializing in boudoir photos, and love to make your dream photos come true, no matter where you are in the US.
If you're located in Austin, scheduling a photo session at our intimate studio is ideal, as we have various settings and backdrops that will help create the exact look you desire. When you want to get out of town, we'll travel to your location and carry out your photo session on-site. Simply let know your needs and location, and we'll be sure to schedule the trip.
Contact us today to learn more about our professional boudoir photography sessions.
San Antonio Boudoir Photographers