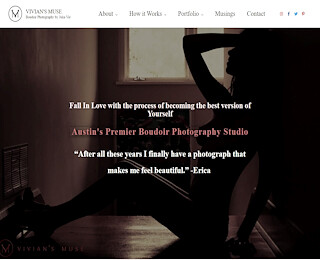 It goes without saying, but a getaway offers a fantastic way to relax, try new things, and find an adventurous side to yourself that you, otherwise, may not have known existed. One of the greatest ways to combine all of these perks of a getaway, when travelling to San Antonio, is with a boudoir photo shoot.
With a boudoir photo session, women can be photographed in erotic or glamerous poses by a highly skilled professional. This special type of photography can be a great way to empower a woman, while showcasing your femininity and sexuality, and can only be accomplished by an experienced photographer, like Vivian's Muse. A San Antonio boudoir photo shoot from Vivian's Muse is a private affair, and can take place on-site at your hotel or location of your choosing, ensuring your comfortability throughout the process.
Similar to a glamour shot, a boudoir photo shoot allows you to dress in lingerie of your choice to get private intimate photos taken. These photos are for your eyes only and you'll be able to purchase a package so you can use the photo as a gift for your partner. Here's how a typical San Antonio boudoir photo shoot from Vivian's Muse works:
Preparing for a Photo Shoot
Before your photo shoot takes place, you'll want to decide the style or tone of the photos themselves. For instance, some of our most common options in terms of tone include provocative, erotic, exotic, or glamorous. However, Vivian's Muse never limits a woman's vision, which means we can meet any style or direction you desire. Beyond the style of your photos, you also get to choose your lingerie or outfit, based on what you want the photo to portray. You may feel inclined to wear your husband or boyfriend's favorite outfit, for example.
Many of our clients prefer purchasing new lingerie for their San Antonio boudoir photo shoot. If so, it's important that you try it on ahead of time to ensure it fits properly. If you're unclear on what you should wear during your shoot, you can always contact Julia Vie, who is happy to offer expert guidance and tips.
During the Photo Shoot
At Vivian's Muse, your comfortability and relaxation is our largest point of emphasis, which is why we make our photo shoots as private as possible. A typical photo shoot takes approximately 30 minutes to an hour, which is more than enough time to capture multiple poses that encapsulate your best features. During the shoot, Julia Vie will provide gentle instructions and suggestions to ensure the photos turn out fantastic, so you never have to worry if you're unsure regarding the right type of poses or expressions to make during your session.
Schedule a Photo Shoot
When you want to schedule a San Antonio boudoir photo shoot, we suggest booking as soon as possible. Julia Vie manages multiple clients per day, so she'll need to book your shoot well in advance to ensure availability. This is especially important for San Antonio clients, as Vivian's Muse will have to travel to your location. When you're ready to book a San Antonio boudoir photo shoot with our professional photographer, contact Vivian's Muse. You'll find examples of our work and answers to many of your questions on our website.
With that said, if you still have questions, feel free to contact us by filling out our secure online contact form and we'll reach out to you personally.
San Antonio Boudoir Photo Shoot