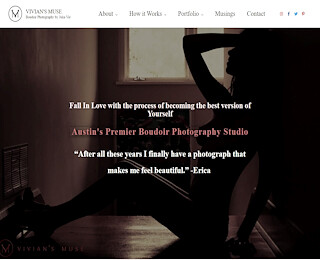 What better way to create intimate portraits than with a couples boudoir photo shoot from Vivian's Muse? While you may typically think of boudoir photography as more of a woman's niche, it can be just as incredible of an experience for couples as well.
With art, there are no limitations, and Vivian's Muse photographer Julia Vie has the experience and professional skill to ensure couples receive a memento that fully displays their love for one another. At Vivian's Muse, we provide couples with a professional and private setting, to allow you and your significant other to become as intimate as you desire; creating beautiful photographs that truly encapsulate your bond.
Envision Yourselves in an Intimate Setting
When you want to introduce some spice back into your relationship, a couple's boudoir photo shoot can be the perfect solution. A boudoir setting -- which is the french term for a woman's private bedroom -- allows you and your partner to capture some of the most romantic moments together. These sexy, yet tasteful photographs invite you to dress as provocatively as you like, in lingerie or less if you prefer. What's more, with a personal and private setting, you have free reign to choose exactly how you want to be portrayed.
Professional and Private
At Vivian's Muse, you get peace of mind knowing your couples boudoir photoshoot will be completely private, as all of our photoshoots take place in our intimate Austin, Texas studio. Julia Vie is both a professional photographer and an artist who is more than willing to discuss the details of your photo session beforehand to ensure you get the exact look to fit your vision. Our Austin studio also offers a number of different rooms, each of which can be used to create the perfect backdrop for your couples boudoir photo shoot.
Preparing For Your Couples Boudoir Photo Session
Before your Vivian's Muse photoshoot, you want to ensure both you and your partner are prepared.
This means, with guidance from Julia Vie, you will get a chance to pick your lingerie or outfit, along with any jewelry to be worn during your session. At Vivian's Muse, we understand men may be unsure when it comes to preparation and outfit selection before their boudoir photo shoot. If this is the case, you can always contact Vivian's Muse directly for expert tips and direction. As for the look of the photoshoot itself, you may find it useful to browse some of our previous work to gain inspiration. However, this doesn't mean you have to feel limited to what we've done in the past, as we can fully bring your vision to life, no matter how complex or provocative it may be.
While you may feel intimidated at first, Vivian's Muse photographer Julia Vie ensures your comfortability from the moment you step in front of our cameras. Our goal is to introduce you to boudoir photography and allow you to be as creative and intimate as you like, without judgement.
Contact us today at Vivian's Muse to learn more about boudoir photos or to schedule an appointment.