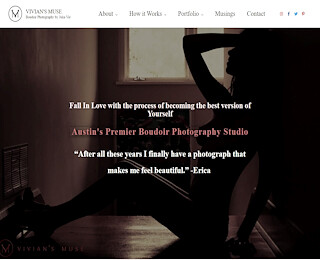 For brides who want to enhance their photo opportunities, a special bridal boudoir photo shoot can be the ideal wedding gift for your husband and a perfectly intimate remembrance piece for you to look back on. At Vivian's Muse, we offer bridal boudoir photo sessions at our private Austin, Texas studio and give you free reign when it comes to your outfit selection and style of photographs. Photographer Julia Vie is a highly skilled and experienced professional who emphasizes the comfort of every Vivian's Muse customer and ensures your vision and your best features are all captured in a tasteful, yet sexy way.
Location Photo Shoots
While our photo shoots typically take place at our private studio in downtown Austin, some brides do request on location shoots, which we are willing and equipped to accommodate. Having your bridal boudoir shoot at a location of your choosing can go a long way in terms of your comfort and fit for your particular vision.
Our professional photographer, Julia Vie, is happy to provide the equipment necessary to create high quality photos regardless of the setting. Just be sure to contact us to discuss the details of your shoot, and we'll ensure all of your needs are met.
Pre-Wedding Boudoir
Looking to surprise your husband with a boudoir photo as a wedding gift? Vivian's Muse can help you every step of the way, from conceptualization and outfit options to the setting and selection of your completed photographs. At Vivian's Muse, we let you choose your lingerie and jewelry, and can offer expert guidance where you see fit
If you'd like some inspiration for photographs, you can always browse some of our past shoots on our website, or simply ask for ideas. Julia Vie has shot hundreds of boudoir photographs for every body type imaginable, and is ready and willing to be provide you with tips to make your photo shoot a successful one.
Couple's Bride and Groom Shoot
Some couples may opt for an intimate photo shoot together. In this case, we suggest a "morning after" photo shoot, which can act as a portrayal of your first morning as a married couple.
With Vivian's Muse as your guide, you will be able to decide on the best options to fully complete the vision you have for your boudoir photoshoot. What's more, we give you access to a full studio with backdrops that can help pull of a wide range of styles and themes.
All of our photo shoots are carried out privately with Julia Vie, giving you an intimate setting that allows you to create the photos you want without any worry or embarrassment. We have experience with all types of boudoir photos, so we are here to make you feel comfortable and relaxed. After all, empowering women by making them feel gorgeous and sexy is our goal, which is why we are always respectful and attentive to your needs to ensure this goal is met.
Call or contact us today to learn more about all of our boudoir photo services or to schedule your own photo session.