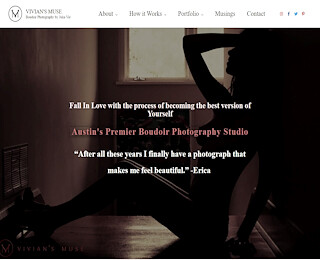 Purchasing a birthday or anniversary gift for your husband can be a stressful experience, and one that many women simply dread. Of course, you can always purchase a toolbox or drill set at the hardware store and call it a day, but if you truly want to convey your love for the man in your life, an intimate gift can make all the difference. While this can certainly be accomplished with lingerie and a romantic dinner for two, if you're seeking something a bit more unique, you should strongly consider boudoir photos for your husband.
Boudoir photos not only allow you to showcase your most intimate self, in tasteful and creative ways, but they can be completed by a professional boudoir photographer -- like Vivian's Muse -- who emphasizes your comfortability and privacy to make the process completely worry-free. At Vivian's Muse you control the images that you have taken, in order to ensure your comfortability. Here's how it works:
Professional Photographer
What better way to get boudoir photos for your husband than to have them taken by a professional photographer? Vivian's Muse photographer Julia Vie is an artist, who specializes in intimate, private portraits. As such, you can rest assured knowing your photographs are taken with the highest quality cameras and lighting equipment that showcase your best features in a luxurious and intimate setting.
Once you're finished, Vivian's Muse allows the customer to review all of their photos, which allows you to carefully choose a photo package that suits both your budget and needs. With professional guidance from Vivian's Muse, you'll be able to pose in ways that accentuate your assets in a positive light. We also offer special lenses and filters to further create the exact look you have in mind.
Boudoir Photo Options
Your Vivian's Muse photographs will be taken at our comfortable studio in Austin, Texas, where you'll be able to choose the type of look you want to accomplish, with expert guidance from Julia Vie. At Vivian's Muse every photo shoot is a private photo shoot. Which means, when you're looking for boudoir photos for your husband, you never have to worry about privacy, as they will be for his eyes only. Being a woman herself, Julia Vie assures your comfortability throughout the entire photo shoot, no matter if you want to be fully clothed, partially nude, or even fully nude.
Scheduling a Photo Session
Your Vivian's Muse photo session can be scheduled in advance, which will give you time to discuss and plan the details with expert guidance from Julia Vie herself
Of course, you can always review our website in order to gain inspiration from some of our past boudoir photoshoots. After all, Vivian's Muse gives you free reign when it comes to how original you want your boudoir photos for your husband to turn out; meaning you can opt to mimic one of our past photoshoots or choose a style that is entirely your own.
Boudoir photos from Vivian's Muse are a unique and exciting gift for any couple, and will give your husband a tasteful and professional image that he likely won't expect, but will truly cherish. We welcome you to review our website further, in order to learn more about our boudoir photo services, including our process and details about our chic studio in Austin, Texas.
Boudoir Photos For Husband