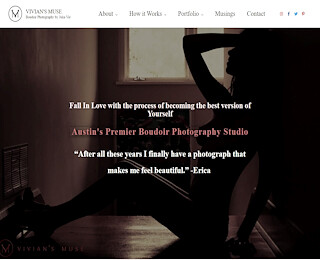 Exotic, erotic, and glamorous – these are the words that are often used to describe boudoir photos.

To be more specific, a boudoir photo is an intimate image of a woman in a personal setting and can only be successfully achieved by trained and experienced boudoir photographers. At Vivian's Muse, we offer high quality personal portraits that are carried out tastefully and professionally to ensure your photos fully embody your femininity and power as a woman.

A boudoir photo session from Vivian's Muse allows you to create an image that is entirely your own. As such, we let you choose which direction or vision you want to convey, whether that be an erotic tone, or something a bit more glamorous. What's more, our boudoir sessions are carried out by a professional woman photographer, with years of experience, to ensure you'll be completely comfortable in front of the camera and with the results.
How Boudoir Photo Sessions Work
Boudoir photographers work closely with clients to produce the perfect photo. As a result, you get to choose everything from the style of photo to the lingerie or clothing to wear during the photoshoot. Before the session, our professional photographer (Julia Vie) will work with you to discuss your needs and specific vision. Once you have established a photographic direction that suits you best, you will schedule a time and date at our discreet studio in downtown Austin, Texas.

All of our photo shoots are carried out by Julia Vie alone, ensuring you'll be as relaxed and comfortable once you're in front of the camera. Our goal is to make women look and feel as sensual and gorgeous as possible, while providing an enjoyable experience at the same time. This is why we pay such close attention to detail in terms of our photo shoots, giving you a private space to make you feel at home without any judgement.
Professional Photos
As you may already know, boudoir photos are excellent gift ideas for your partner or loved one.

If you are going to have a boudoir photo done for a particular date, such as for a birthday gift, wedding, or anniversary, it's best to plan in advance to ensure availability. Because boudoir has taken off so quickly in terms of popularity, boudoir photographers are booked quickly. Thus, early appointments are highly recommended. After your photo session, a gallery viewing will be scheduled approximately a week or two later, where you will be able to browse all of your gorgeous photos and choose the ones that speak to you the most.
Choosing a Photographer
At Vivian's Muse, we understand that there are many boudoir photographers to choose from.

With that said, we're confident you will find Julia Vie to be your ideal photographer. As both an artist and a woman, Julia has worked with thousands of women of different body types, age groups, and ethnicities, and knows exactly how to create the most tasteful, yet intimate photos for any woman. What's more, having a female photographer is oftentimes found to be ideal in terms of comfortability for such an intimate photoshoot. After all, Vivian's Muse is dedicated to allowing you to express your true self, without feeling self conscious.

The quality of work is also a major factor in choosing a photography studio, and by reviewing our website you'll be able to see examples of some of the jaw dropping work we have done for past clients. Vivian's Muse is one of the leading boudoir photographers in Austin, Texas. Our studio features a variety of settings and backdrops to choose from, ensuring your photos are a true representation of you as a strong and powerful woman.

We are dedicated to making sure that our clients get the best photos possible, and are here to help you every step of the way with expert guidance and tips.

Call us today or contact us online to learn more about Vivian's Muse or to schedule a photo session today.